Isla Vista:
Associated Student Food Bank, Brown Bag Distribution: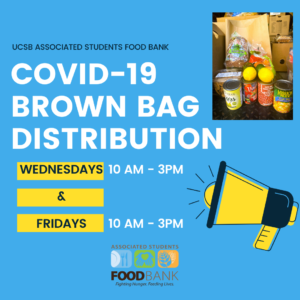 Miramar Food Pantry:
Mon/Tues/Thursday 4pm-6pm

Food Not Bombs (VGN):
Little Acorn Park (Sun) / Children's Park (Wed)
5pm-6pm
SAFE Food Net Distributions:
St. George YMCA
Tues 10am-12pm
CalFresh & Food Security Assistance, Free Nutrition Station:
Student Needs Advising Center (UCEN)
For hours and other information, click here
The Organic Soup Kitchen:
Contact for delivery: (805) 364-2790 or contact@organicsoupkitchen.org
---
Santa Barbara County:
The Food Bank of Santa Barbara has provided us with a supplemental food distribution resource guide, including distribution locations in both North and South Santa Barbara County. The guide contains information of specific locations and days/times of distribution.
Click here to view the food distribution guide.